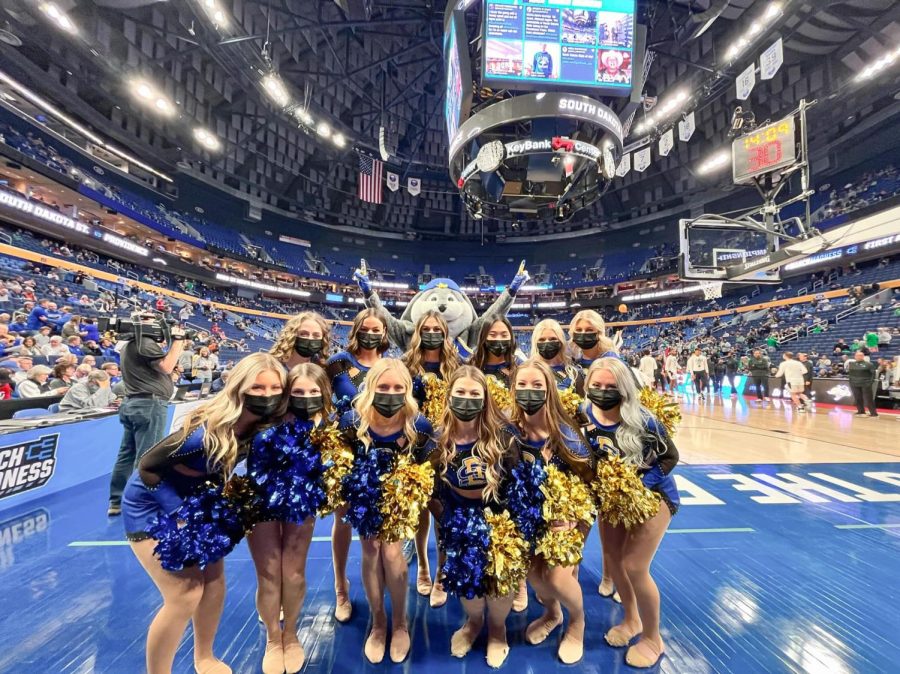 SDSU Dance Team
The South Dakota State University dance team will participate in the National Dance Association College Nationals, April 6-10, in Daytona Beach, Florida. The team received a bid to attend the competition while at the NDA camp this past summer.
Last year the dance team placed second in the pom division, which has motivated them to push harder to improve, hoping to perform better at the 2022 competition. The team is also preparing for a larger pool of teams this year, as they are slowly coming back from the pandemic. 
"Our schedule has picked up more coming out of COVID," junior captain Kennedy Knuth said. 
The team was glad to add many events to its year after COVID, like the Frost Renovation announcement, One Day for State, Hobo Day and recently, winning the Summit League spirit squad competition, as well as performing at the March Madness game in Buffalo, New York. 
Now near the end of the year, the team looks forward to nationals as it heads to Florida.
"I'm most excited for us to come together as one and spend time reaching our goals," junior captain Jenna Skaggs said.
The four team captains think their team is spirited, involved, and dedicated and those strengths will help them during the competition.
Dance team head coach, Christie Pekoske, describes the challenges the team has faced this year, saying, "With all the COVID challenges, injuries and illness we have gone through it seems like there is obstacle after obstacle. But the girls persevere and come out stronger each time."
Practices look a little different this year for the team because they are now captain led. This makes preparing for nationals a bit different. The team is ready and excited to see how their hard work has paid off. 
"Finding separation of being a teammate as well as a team captain can be difficult," senior captain Katie Dam said.
The dance team holds fundraisers throughout the year to pay for the program, which is needed for choreography, uniforms, poms, practice wear and other expenses, including the money needed to attend NDA College Nationals. Each member on the team has to raise between $1,200 and $1,500 for the year. 
"It is humbling that we fundraise ourselves, because we are truly working for it," Skaggs said.
"Fundraising makes us extremely grateful for our opportunities and experiences," junior captain Ashton Swift said.
Part of this year's fundraisers went toward new uniforms, which will be revealed for the first time at nationals. 
"The bond and camaraderie this team has is by far the greatest of any other team," Pekoske said. "They lean on each other and play off each other's strengths. Each girl learns from one another and inspires each other.  I am inspired by them every day."