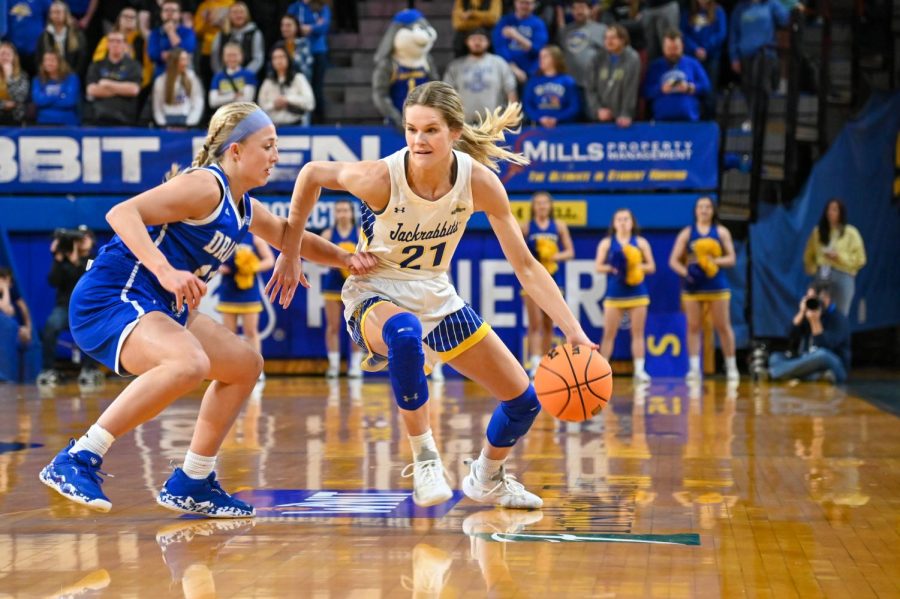 Joclyn Haven
The SDSU Jackrabbits used a strong second half as they defeated Drake University with a final score of 84-66 to advance in the WNIT.
The Jacks were led by Myah Selland and Paiton Burckhard, who scored 21 and 20 points respectively. Tori Nelson also chipped in 16 points and Tylee Irwin had 9 points, 6 assists and 5 steals.
SDSU was propelled by their defense as they forced the Bulldogs into 25 turnovers, scoring 32 points from the miscues.
The start of the game was back and forth as each team kept trading buckets. Drake ended up leading after the first quarter 22-19. Head Coach Aaron Johnston talked about Drake's pace at the beginning of the game, "We can't simulate their pace, you're going to have to dig in and get used to it."
The Jacks eased back into control in the second quarter as they took the lead and got some big buckets from Burckhard and Haleigh Timmer to take a 36-32 lead into halftime.
The third quarter, like it has all season, is when SDSU took over and never looked back. They outscored Drake 25-11 in the quarter and even went on a few runs to force timeouts for the Bulldogs.
"I think we made really good adjustments," Selland said about the third quarter. "They're a team that likes to get out and run and our guards did a good job of slowing them down and got into our offense and got really good looks.
The Jacks took a 61-43 lead heading into the 4th quarter, and they never looked back as a full Frost Arena cheered the Jackrabbits as they move onto the quarterfinals of the WNIT.
"Our crowds are always fantastic, they know how to impact the game," Johnston said.
SDSU has won its 13th game in a row at Frost Arena, and they will look to extend that streak as they host Alabama on Sunday at 5 p.m. in the Postseason WNIT Quarterfinals.