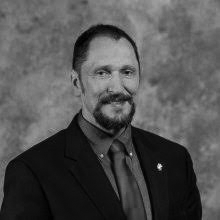 Almost five months after moving from the basement of Hansen Hall to the Ag Engineering Building, the School of Psychology, Sociology and Rural Studies (SoPSRS) has made its new location a home.
"Very, very happy to be here," SoPSRS Director Paul Markel said. "Couldn't be more pleased with the team that we have within the school, but also across the college."
The school, which was formed last July out of the former Department of Psychology and Department of Sociology and Rural Studies, moved to the Ag Engineering Building last September after being in its previous location for almost five years.
Markel says moving to a more central area of campus has been an improvement.
"Physically and psychologically, this is a brand-new opportunity," he said, "because we're moving out of a basement on the edge of campus to a very well positioned, beautiful building."
The school's faculty have reacted positively to the move and the changes it brought, as well. Most of them, like psychology professor Debra Spear, are simply happy to be out of Hansen Hall's basement.
"It is very nice to have an office with privacy and with a window again," she said.
Others appreciate having more lab space and offices closer to their colleagues, like sociology professor Meredith Redlin. Before the move, the psychology faculty was located at the end of the basement, while the sociology faculty was located at the other end. Now, both faculty offices are intermixed.
On the student side of things, SoPSRS Associate Academic Director Tyler Miller, who works closely with student organizations and clubs in the school along with teaching, says students are also appreciative of the more central location.
"I would say the students are generally excited about having an academic 'home' that is centrally located," he said. "The ability for a student to have an upper-level major course in the building is a real plus."
Markel says one of the challenges now is converting labs and classrooms meant for Ag Engineering into spaces more suited for SoPSRS.  
There has also been an increase in Jackrabbit Preview visits from high schoolers interested in South Dakota State University and SoPSRS, requiring more planning from faculty.
"We have a lot of excitement with our new criminology major along with psych and social," Markel said. "So now, how do we want to best schedule rooms and faculty time to accommodate the surge in Jackrabbit Previews?"
Looking toward the future, psychology and sociology faculty are working on more opportunities for collaboration between them, according to Markel.
"[The faculty] is actually creating what comes next," he said. "They're creating that vision together. … And so, what's next is more of that collaboration across disciplines, which will then help us to define that vision together and additional conversation and engagement with other programs across campus."
The school will also be hiring more faculty, including more criminology professors to accommodate the new major added last year.
Miller added that student organizations like Criminology Club, Psychology Club and Sociology Club have been looking for more opportunities for their new events and inter-club collaborations.
"We are all enthusiastic about opportunities to increase engagement amongst SoPSRS majors and explore ideas where our disciplines can benefit from each other's perspectives," Miller said.