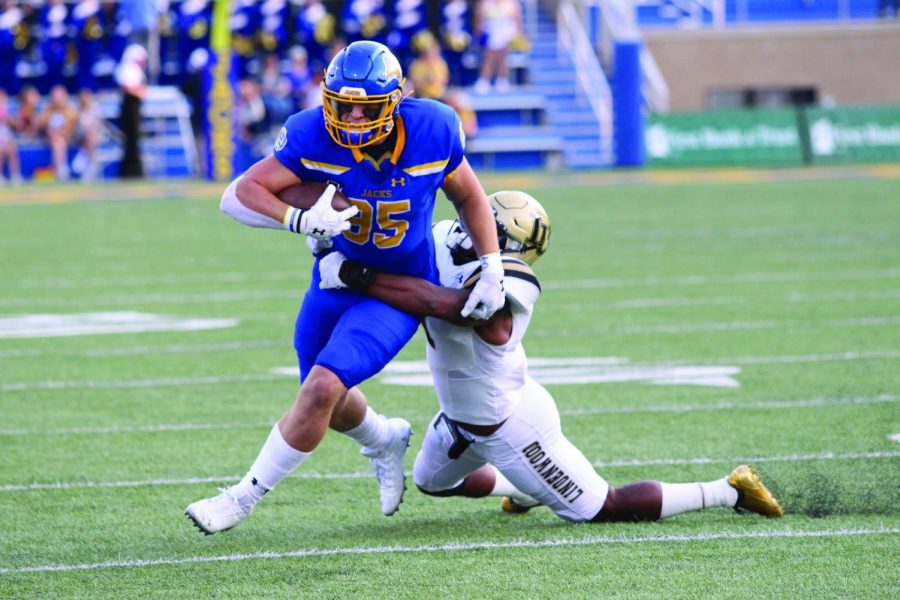 Evan Patzwald
This weekend, the South Dakota State Jackrabbits open their Missouri Valley football conference schedule at Indiana State Sept. 25.
This will mark the first Missouri Valley Football Conference matchup of the season for both teams. Kickoff is set for noon CST at Memorial Stadium in Terre Haute, Indiana. 
Here's what to look for going into the game.
About South Dakota State
After a 2-0 start to the season, the Jackrabbits are coming off their only bye week of the regular season.
They enter this matchup ranked second in this week's Stats Perform media poll, moving up a spot from their preseason ranking.
The Jacks came away with a 42-23 season-opening win against FBS opponent Colorado State Sept. 3 in Fort Collins, Colorado. They backed that up the following week with a dominant 52-7 victory in their home opener against Lindenwood Sept. 11.
As they begin their Missouri Valley slate this weekend, coach John Stiegelmeier looks to further improve his football team coming off a bye week.
"Looking forward to opening up the Missouri Valley Football Conference schedule against Indiana State," Stiegelmeier said. "They're a good football team, and they're getting better every week. We're going to have to play our best football and try to represent where we're ranked in the nation."
About Indiana State
The Indiana State Sycamores enter this matchup with a 2-1 record.
They opened their season at home Aug. 28 against Eastern Illinois, walking away with a 26-21 win. The Sycamores then traveled to Evanston, Illinois, Sept. 11, losing 24-6 to Northwestern.
Indiana State's most recent outing ended with a 24-yard go-ahead touchdown as time expired as the Sycamores beat Eastern Kentucky 23-21 in Richmond, Kentucky, Sept. 18.
Led by coach Curt Mallory, currently in his fifth season with the team, the Sycamores have had a couple of close finishes and late-game heroics to start their season.
A win at home against a Missouri Valley opponent and an FCS powerhouse would be their biggest win of the season. Mallory is proud of where his football team is after three games.
"We're where we should be and where we want to be," Mallory said. "We're excited to get into conference play, we've got a really good opponent this Saturday, and we're ready to get back to work."
Key Players for SDSU
Sixth-year senior transfer quarterback Chris Oladokun has had a hot start to the season. He is currently passing 30-41 for 395 yards, six touchdowns and no turnovers in his first two starts.
Their rushing attack has also looked impressive to start. Junior Pierre Strong Jr. has 248 rushing yards on 20 attempts and three touchdowns, averaging 12.4 yards per carry. Freshman Amar Johnston could become a great addition to the Jackrabbit offense, starting with 112 yards and a touchdown on 18 attempts.
Sophomore Isaiah Davis added 129 yards on 18 carries and a touchdown. Against Lindenwood, Davis injured his shoulder and is expected to be 
out at least eight weeks.
Junior Jadon Janke leads the team in receiving with nine receptions for 129 yards and two touchdowns. Jadon's twin brother Jaxon is second in receiving yards with 122 on five receptions and a touchdown. Tight ends Tucker Kraft and Zach Heins also have two touchdown catches.
On defense, Adam Bock leads the team with 11 total tackles. Isaiah Stalbird is second with 10, and Senior linebacker Logan Backhaus has nine. Overall, the defense has three total turnovers.
Key players for Ind. St.
For Indiana State, quarterback Anthony Thompson completed 40-72 for 321 yards, two touchdowns, and two interceptions over three games. 
Running back Pet Kerlegrand leads the team in rushing with 128 yards on 40 carries and a touchdown. Michael Haupert has 59 yards on six carries and a touchdown, averaging 9.8 yards per carry.
Rontrez Morgan is the Sycamores' receiving leader with nine catches for 142 yards. Phazi McClurge adds nine receptions for 101 yards and two touchdowns.
Defensive back Michael Thomas has 21 total tackles and two interceptions for the Sycamore defense, while Ty Hambright added an interception. Linebacker Matt Thompson is second in tackles with 13.
Overall, the Indiana State defense has forced four turnovers and allowed 22 points per game.
Last 10 results:
South Dakota State has won eight of the last 10 matchups against the Sycamores. Here's a look at who won and the final score.
2019: SDSU 42-23
2018: SDSU 54-51 OT
2015: SDSU 24-7
2014: SDSU 32-17
2013: SDSU 29-0
2012: SDSU 24-10
2011: Ind. St. 38-28
2010: Ind. St. 41-30
2009: SDSU 41-0
2008: SDSU 49-9