Campus religious groups establish fellowship and belonging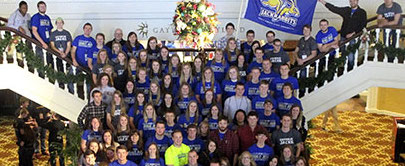 Fourteen religious student organizations provide services, events and opportunities for students to gather on and off the South Dakota State University campus.
One of the organizations serves a "niche group," according to Jessaca Zuidema, a senior nursing student and president of Nurses Christian Fellowship. "We allow nursing students to find a safe space to live out their faith and to connect with others who share common values."
Zuidema's organization meets for a weekly breakfast where members listen to a speaker or devotional. In addition to the weekly meetings, NCF participates in community service like decorating cards and gift bags during holidays for long term care facilities in Brookings.
"We accept prayer requests on a weekly basis and pray for whatever is heavy on our members' hearts," Zuidema said.
The Pope Pius XII Newman Center is another opportunity for worship on campus.
"(The Newman Center) is an embassy of the Catholic faith to the campus of SDSU,"  Lili Robinson, a junior advertising major and student life coordinator for the Newman Center said. "Refuge is often necessary due to the hectic demands of college life."
Students have access to the Newman Center 24/7, according to Robinson. In addition to the open hours, the Newman Center also offers "'priest directors, missionaries and student leaders' for counseling, direction and discipleship," Robinson said.
Another activity that the Newman Center offers is "Newman Night" on Thursdays. Mass is at 8 p.m. with activities to follow. There are other events such as bonfires, variety shows, pizza and a priest and midnight pancakes.
The Navigators is another opportunity for students to participate, with "Nav Nights" being held every Wednesday.
According to the organization's Jacks Club Hub page, "Our mission is to advance the gospel of Jesus and His kingdom into the nations through spiritual generations of laborers living and discipling among the lost."
Additional offerings of The Navigators include residence hall bible studies and spiritual mentoring. The mentors are usually upperclassmen paired with underclassmen, according to Andrew Florestano, The Navigators' campus director.
"Christian groups sometimes get a bad rap for being a 'good peoples' club," Florestano said. "It's a very welcoming group, a very engaging group."